Dr. Pratik Singh, DVM, MS, PhD
Dr. Pratik Singh is a graduate of APAU College of Veterinary Medicine, Hyderabad, India. He received his MS and PhD in Veterinary Microbiology and Immunology at University of Minnesota and University of Illinois respectively. Following graduation he worked in virus and cancer research for several years. His passion for animal medicine brought him back to clinical practice in May 2011. He volunteered at various animal shelters, non-profit organizations, and private practices prior to joining a corporate veterinary hospital (Los Angeles) in Dec 2011. In Oct of 2012 he moved to San Diego, and joined a private practice. Passionate about animal care, in October of 2013 he opened Bonita Pet Care Animal Hospital.
His hobbies included photography, camping, hiking, travel and gardening. He grew up with dogs his entire life and now takes care of "Shaan" a labrador retriever mix.
---
Dr. Jenna Mondares-Ploneda, DVM
Dr. Mondares graduated from Western University of Health Sciences College of Veterinary Medicine in Pomona, CA after earning her Bachelor's degree in Animal Science with a minor in Chemistry from Cal Poly Pomona. A native San Diegan, she worked her way from kennel aid to lead technician at a local veterinary hospital over 5 years before attending veterinary school. During veterinary school, she rotated through various fields of medicine, from working with injured wildlife at the CA Wildlife Center to zoo medicine in South Africa and exotic animal medicine, among her small animal shelter and general practice training. After graduation, she worked locally as a relief vet before joining Bonita Pet Care in March 2014.
Dr. Mondares has a soft spot for dogs, cows, sheep and reptiles, but enjoys practicing medicine on all species and is hoping to complete a Master's in Conservation Medicine.
She and her husband currently have 4 dogs from 15 to 100 pounds, 2 California Desert Tortoises and 2 snakes, as well as a son & a daughter of the 2-legged variety!
---
Administrative/Technical Staff
Liana – Registered Veterinary Technician and Hospital Administrator
Liana is a happy mother of a wolf pack of six dogs & three cats. She's a native of San Diego, California as well as Dumaguete City, Philippines; with a Bachelor's Degree in Elementary Education from Silliman University. She one day hopes to integrate her two passions by teaching aspiring Veterinary Assistants & Technicians. Since 2012, she's been happily married to her supportive husband, Nick. Together they enjoy catching all the latest zombie & comic book movies, as well as cheering for the San Diego Gulls hockey team.
---
Jessica N. -Registered Veterinary Technician and Lead Technician

---
Fatima – Registered Veterinary Technician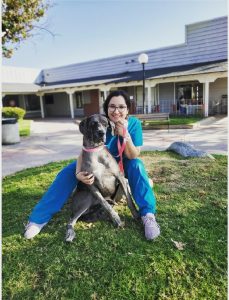 She was born in the state of Washington and migrated to Mexico in 2001. After working 6 years in a dead end job, she decided to pursue her dream of working with animals and in 2016 enrolled in the Veterinary Technician program at PIMA and earned her associates degree in 2018.
She lives with her mom, 7 dogs and 2 cats in Tijuana and is building a house with her boyfriend, which she plans to marry in the near future.
---
Melissa – Veterinary Technician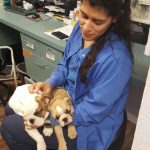 ---
Brenda – Veterinary Assistant
---
Claudia – Veterinary Technician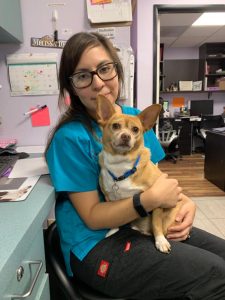 Claudia was born in Los Angeles but moved to Tijuana when she was 3 years old, where she studied until the 7th grade because her family decided to move to San Diego to have better opportunities. After graduating from high school she went to SWC in order to transfer to SDSU to study Foods and Nutrition. Just as she was ready to transfer during her last semester, she decided to follow her passion and switch careers by enrolling at PIMA Medical Institute under the Veterinary Technician program.  While studying she worked as a part time assistant manager in a retail store for 5 years, and luckily during that time while doing her externship with our hospital she had the opportunity to join our team. Claudia plans on taking the VTNE to become a licensed RVT.
She lives with her husband, two belgian malinois and a himalayan cat. They like to watch soccer games, take their dogs to the beach and go hiking.
---
Carolina – Veterinary Assistant
---
Vania – Veterinary Assistant
---
Lariza – Veterinary Assistant
---
Amanda – Veterinary Assistant and Inventory Clerk
---
Jessica F. – Veterinary Assistant and Client Service Rep.
---
Gabi – Veterinary Assistant and Client Service Rep.
---
Athena – Client Service Rep.