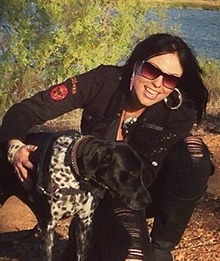 Originally from a suburb outside of Detroit, MI, Nicole has cherished the presence of animals in her life ever since she was child. Growing up in MI she helped care for all of her family's pets which consisted of multiple dogs, 1 guinea pig, a pet rat, and dwarf hamsters. Nicole has a background in retail & and Small Business Management which kept her busy until she could begin working towards her lifelong passion of caring for animals.
After moving to California in 2008, Nicole graduated with honors from Pima Medical Institute in 2010 as a Certified Veterinary Assistant. Since 2010 Nicole has worked as an Animal Care Nurse. She has succeeded in implementing several positive changes as a Boarding Lead/Animal Care Nurse at previous veterinary practices and has gained priceless in-clinic hands-on experience in the Veterinary field over the last 5 years.
Nicole now lives in Eastlake Chula Vista and has three dogs; Sir Kingston/La Chon, Mr. Bartleby/ a border rescue Pointer Mix& Miss. Pickles/Teacup Chihuahua & her two Hermit Crabs Bob & Pretzel. In her off-time Nicole enjoys Cosmetology, DIY projects, traveling to new places and gardening. She has a love for the brachycephalic breeds such as French Bulldogs, Pugs, & Exotic Shorthair Cats. However, her favorite dog breed is truly the German Shorthair Pointer but let's face it, any kind of dog will do!
Nicole looks forward to continuing her career helping pets and their humans as well as gaining more knowledge and experience in the Veterinary field. Nicole feels truly grateful to work at Bonita Pet Care and feels privileged to work with the brilliant Veterinarians and passionate, caring Animal Care Nurses. Their love of animals is contagious and makes coming to work each day a true joy.