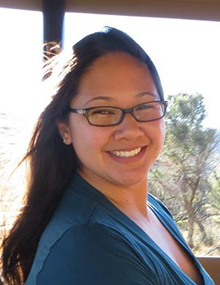 Dr. Mondares graduated from Western University of Health Sciences College of Veterinary Medicine in Pomona, CA after earning her Bachelor's degree in Animal Science with a minor in Chemistry from Cal Poly Pomona. A native San Diegan, she worked her way from kennel aid to lead technician at a local veterinary hospital over 5 years before attending veterinary school. During veterinary school, she rotated through various fields of medicine, from working with injured wildlife at the CA Wildlife Center to zoo medicine in South Africa and exotic animal medicine, among her small animal shelter and general practice training. After graduation, she worked locally as a relief vet before joining Bonita Pet Care in March 2014.
Dr. Mondares has a soft spot for dogs, cows, sheep and reptiles, but enjoys practicing medicine on all species and is hoping to complete a Master's in Conservation Medicine.
They currently have 5 dogs from 3.5 to 100 pounds, 2 California Desert Tortoises, 2 snakes and a bearded dragon, and they are looking forward to expanding their family!